Giuseppe "shadowreaper" Rungetti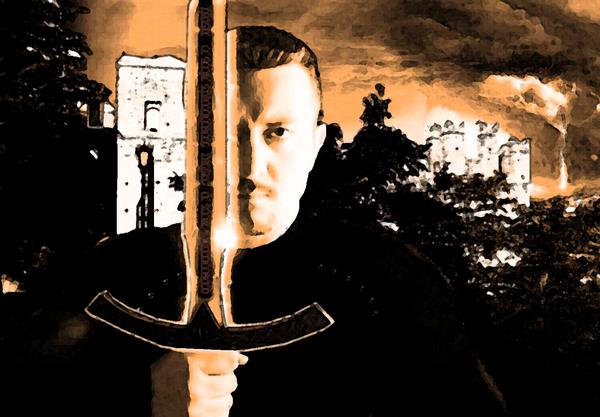 Since 1996 the southern Italian lands have seen the born, grow and establishment of a thrash/death metal act that goes by the name of 'Steel Cage' spawned by an idea of both guitarists and siblings Gianluca & Giuseppe Rungetti and drummer Genny Eneghes. Same year they produce a demo-tape 'Abyss of Steel' a was beaming vision;
During 1997 the band sees changes in their line up, but nothing will stop the Rungetti brothers and Genny to keep working on a new ideas for a future production, concentrating on mixing Death Gothic and some Progressive with their primary roots based in to Thrash Metal.
In January 1999 a new and stronger line-up recorded 'Visions of Dark Millennium', a demo-cd, which was well received from national metal press e relative web media. Since then the band would start to work hard on their skills and started to play live around their native nation, sharing stage with band as such Vision Divine.
In 2003, after few years of hard work, the band present a new enhanced-Cd 'Red Blood Planet' reaching a much better exposure on the main national metal magazines reaching a top release among the Italian metal releases (METAL SHOCK n.379).
2004 is the year the band started to work even harder live appearing live with Cadaveria and Illogicist.
March 2007, another period of hard work follows and the new album 'Obsidian' is completed as fourth release and first long play album: It is a more mature, rational work, as sharp as obsidian and as strong as the will of keep going forward. This time adding female singer with a variety of vocals as clean and melo and screaming and raw, giving a new edge to the song writing and the performance of the Steel Cage.
January 2011, OBSIDIAN digital release is available on worldwide online stores! Check it out on iTunes, Amazon, Play.com, 7digital and many many others around the world!
Spring 2015, along with long time friend Antonio on bass guitar, new and past ideas are gathered for the new album Syndrome. Recording started late 2017. 
Antonio left the band in 2018 and the old friend Marco (former bass guitar player on VISIONS OF DARK MILLENNIUM)  joined again the band to carry the bass guitar duties.
More news yet to be disclosed…stay STEEL!
Our gratitude goes to all the wanderful people we have been honoured to play with…to you all, stay STEEL!
Bass guitar during the creation of SYNDROME
YEARS 2015-2018
GIOVANNA "THROATHOLOCAUST"
Vocals on OBSIDIAN
YEARS 2007-2012
Vocals on a previous release of OBSIDIAN
YEARS 2005-2006
Bass guitar on OBSIDIAN
YEARS 2005-2011
Vocals on VISION OF DARK MILLENNIUM and RED BLOOD PLANET
YEARS 1999-2004
Bass guitar on RED BLOOD PLANET 
YEARS 2001-2004
Bass guitar
YEARS 2005-2006
Vocals on ABYSS OF STEEL demo tape
YEARS 1995-1998
Bass guitar on ABYSS OF STEEL demo tape
YEARS 1993 – 1997